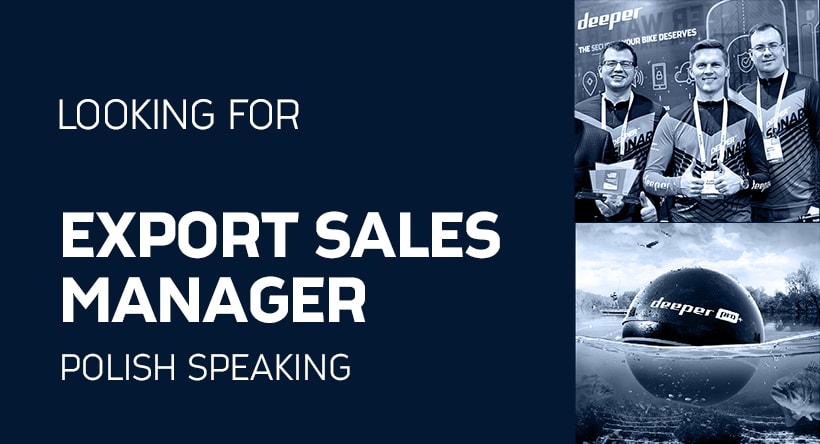 Deeper is a ground-breaking, globally-oriented consumer electronics company based in Lithuania. We create and produce smart electronic devices for sports and outdoor activities.
THANKS FOR YOUR INTEREST. CURRENTLY, WE ARE NOT LOOKING TO FILL THIS POSITION. PLEASE VISIT HTTP://DEEPER.EU/CAREER/ FOR A LIST OF ALL THE OPEN POSITIONS WE HAVE AT PRESENT.
What you will be doing
Deeper's ground breaking range of smart sonar devices now sell in over 50 markets globally, and as an Export Sales Manager you will play a crucial role in further increasing sales and market penetration. You will be responsible for driving sales in Poland, one of our key global markets. Here's how you will do it:
– Leading Deeper's sales drive in the region by taking care of distribution and sales channels.
– Constantly innovating in order to find new sales channels and retail chains, and even chasing fishing stars in the region.
– Coordinating the activities of our pro-staff team, generating promotional content and managing regional social media accounts.
– Attending exhibitions and other targeted events abroad where you will help to present Deeper Sonar and its commercial possibilities.
– In collaboration with the marketing and sales teams, formulating new ways for Deeper Smart Sonars to conquer the world.
– As an Export Sales Manager you will be reporting to a Regional Sales Manager.
The experience and skills you will need
– Native-level Polish and fluent English, as those will be your primary working languages.
– Experience in international business development or export sales, with results that you are proud of.
– Proven negotiation and communication skills.
– An organized and results-oriented approach coupled with the ability to handle unexpected situations.
– The ambition to generate strong earnings by conquering foreign markets with an innovative product from Lithuania.
Our Offer
At Deeper, we are proud of our collaborative culture, which inspires achievement. Joining the Deeper team gives you the opportunity to help this culture grow further and to be a part of    an award-winning company. You will also benefit from:
– An attractive compensation package.
– The opportunity to both gain experience working in the Polish market and at the same time to be part of a worldwide export sales and brand development team.
– The opportunity to develop your skillset working alongside experienced specialists.
– The chance to be involved in the whole product life cycle, not just B2B sales, because our company works on everything from brand development through to sales to end-users.
– The opportunity to travel frequently attending exhibitions and going on fishing trips and much more.
INTERESTED?
Please send your CV in English, to career@deeper.eu. Please use the subject line "EXPORT SALES MANAGER (Polish speaking)". Please note, only candidates  selected for an interview will be contacted.
Your personal data will be processed in acoordance with the EU General Data Protection Regulation (GDPR). See the privacy policy for more details.