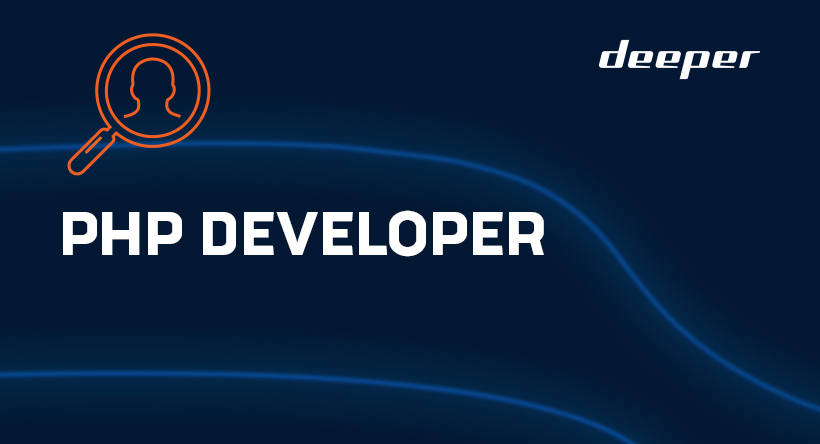 At Deeper, we create innovative products that allow anglers to discover the best fishing spots.
Today, our sonars are available in more than 50 countries with our app community connecting more than 2 million smart anglers across the globe. Behind all of this we have a team of 60 specialists. We are proud to have gathered a unique bunch of people, different in their backgrounds, experiences, some very creative, some very meticulous, but all united in belief that only together we can create the next big thing to elevate fishing experiences.
We are looking for a mid-senior level PHP Developer to build new future sets and integrations, develop and maintain our existing global e-Commerce platform.
As our PHP Developer, you will:
– Develop new features for our e-Commerce platform (Magento);
– Build integrations between internal and various external platforms;
– Propose optimisation ideas, architecture improvements and development strategies;
– Maintain the platform.
– Minimum of 4 years PHP web development experience;
– Strong proficiency in modern design patterns and development languages, including PHP, HTML, CSS, etc.;
– Working knowledge of MySQL DB;
– Experience in OOP programming;
– Hands-on experience with at least one of the PHP frameworks (Symfony, Laravel, Zend, CakePHP, Yii, CodeIgniter, etc.);
– Strong understanding of e-Commerce technology landscape and associated stacks (shopping cart, API integrations, credit card processing, marketing promotions and others);
– Strong drive for continuous learning and development and keeping up with the latest trends in web technology.
It would be a huge plus if you have:
– Magento certification;
– Experience in Magento or other e-Commerce platform (Sylius, PrestaShop, WooCommerce, Drupal, etc.);
– Knowledge of a modern JavaScript framework (Knockout, React, Angular or other);
– Thorough understanding on Mobile First and Responsive Web Design alongside the ability to put them into practice.
We are really proud of our cosy, home-like atmosphere, where you can always ask your colleague for an advice over a cup of coffee. Plus, there's always a dog or two running around the office.
Joining the Deeper team gives you an opportunity to help this culture grow further and develop your skillset working alongside experienced specialists. You will also benefit from:
– Beautiful office right in the heart of Vilnius with an open-plan workspace, outdoor terrace and a park surrounding the office for your afternoon power walks;
– Health insurance (after 1 year of employment);
– Accident insurance;
– Training and development budget (2% from annual gross salary);
– Dedicated time for personal development (10% of working week);
– Regular team-building events;
– Flexible working hours;
– Remote working opportunities;
– Gross salary 2500- 4135 EUR.
Interested?
Please send your CV in English, to career@deeper.eu. Please use the subject line "PHP DEVELOPER". Please note, only candidates selected for an interview will be contacted.
Your personal data will be processed in accordance with the EU General Data Protection Regulation (GDPR). See the privacy policy for more details.