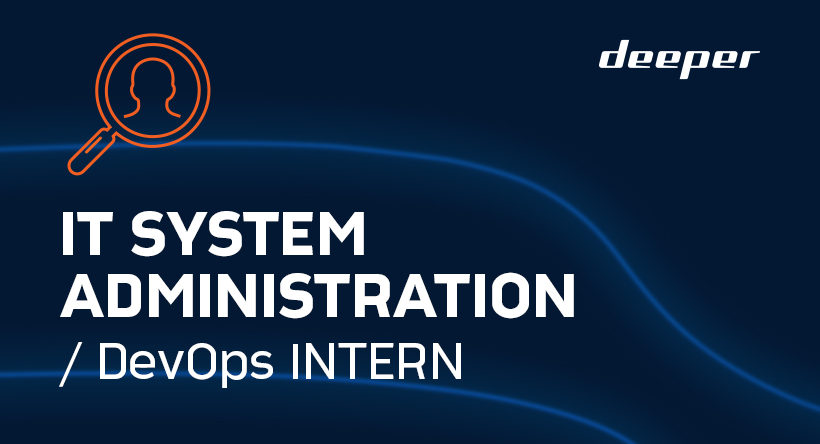 At Deeper, we create innovative products that allow anglers to discover the best fishing spots.
Today, our sonars are available in more than 50 countries with our app community connecting more than 2 million smart anglers across the globe. Behind all of this we have a team of 60 specialists. We are proud to have gathered a unique bunch of people, different in their backgrounds, experiences, some very creative, some very meticulous, but all united in belief that  only together we can create the next big thing to elevate fishing experiences.
We are looking for an IT System Administration / DevOps Intern, to help ensure our systems are running smoothly and oversee day-to-day operations.
As our IT System Administration / DevOps Intern, you:
Will be taking care of some of our existing servers, building some new ones, making sure they are properly maintained, monitored, and automating these actions when reasonable.
– Genuine interest in how things work;
– Interest in finding good tools for the task at hand;
– Interest in learning to use new tools;
– Ability to communicate in English is a requirement;
– Previous experience with Linux, Docker, some form of automation is a plus.
We are really proud of our cosy, home-like atmosphere, where you can always ask your colleague for advice over a cup of coffee. Plus, there's always a dog or two running around the    office.
Joining the Deeper team gives you an opportunity to help this culture grow further and develop your skillset working alongside experienced specialists. You will also benefit from:
– Beautiful office right in the heart of Vilnius with an open-plan workspace, outdoor terrace and a park surrounding the office for your afternoon power walks;
– Employee insurance;
– Flexible working hours;
– Remote working opportunities;
– Paid internship (607 EUR gross), possibility for employment after successful internship.
Please send your CV in English, to career@deeper.eu. Please use the subject line "IT SYSTEM ADMINISTRATION / DEVOPS INTERN". Please note, only candidates selected for an interview      will be contacted.
Your personal data will be processed in accordance with the EU General Data Protection Regulation (GDPR). See the privacy policy for more details.