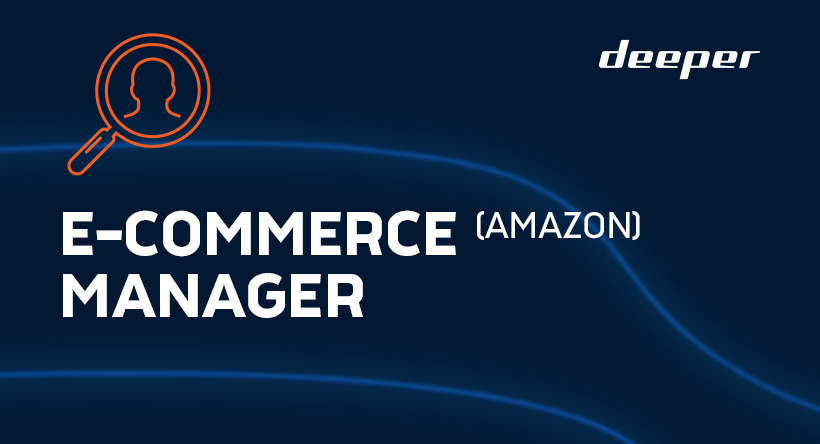 THANKS FOR YOUR INTEREST. CURRENTLY, WE ARE NOT LOOKING TO FILL THIS POSITION. PLEASE VISIT HTTP://DEEPER.EU/CAREER/ FOR A LIST OF ALL THE OPEN POSITIONS WE HAVE AT PRESENT.
At Deeper, we create innovative products that allow anglers to discover the best fishing spots.
Today, our sonars are available in more than 50 countries with our app community connecting more than 2 million smart anglers across the globe. Behind all of this we have a team of 60 specialists. We are proud to have gathered a unique bunch of people, different in their backgrounds, experiences, some very creative, some very meticulous, but all united in belief that only together we can create the next big thing to elevate fishing experiences.
As our E-commerce (Amazon) Manager, you will be responsible for supporting a range of e-commerce development projects. Your primary responsibility will be leading sales efforts with Amazon.com by managing customer relationships and account operations.
AS OUR E-COMMERCE (AMAZON) MANAGER,
YOU WILL:
– Drive through innovative campaigns;
– Help structure and design a winning Amazon strategy;
– Lead all strategic an operational digital deliverables (including research, analytics and strategies directed at online shopper experience);
– Stay up-to-date on key digital consumer, shopper and retail trends, and on emerging media and technologies.
WE EXPECT YOU TO HAVE:
– Strong understanding of e-Commerce coming from direct experience of creating and implemeneting digital retail solutions;
– Experience with Amazon best practices would be a huge plus;
– A demonstrated ability to drive traffic and sales. Direct sales experience would be considered a plus;
– Strong communication skills in English as ir will be yout primary working language;
– An analytics-focused profiile;
– As a proactive and results-orientated thinker, you thrive in entrepeneurial environments where new ideas are valued;
– The ability to work collaboratively in a team environment.
We are really proud of our cosy, home-like atmosphere, where you can always ask your colleague for an advice over a cup of coffee. Plus, there's always a dog or two running around the office.
Joining the Deeper team gives you an opportunity to help this culture grow further and develop your skillset working alongside experienced specialists. You will also benefit from:
– Beautiful office right in the heart of Vilnius with an open-plan workspace, outdoor terrace and a park surrounding the office for your afternoon power walks;
– Health insurance (after 1 year of employment);
– Accident insurance;
– Training and development budget (2% from annual gross salary);
– Dedicated time for personal development (10% of working week);
– Regular team-building events;
– Flexible working hours;
– Remote working opportunities;
– Gross salary starting from 2118 EUR.
Please send your CV in English, to career@deeper.eu. Please use the subject line "E-COMMERCE (AMAZON) MANAGER". Please note, only candidates selected for an interview will be contacted.
Your personal data will be processed in accordance with the EU General Data Protection Regulation (GDPR). See the privacy policy for more details.