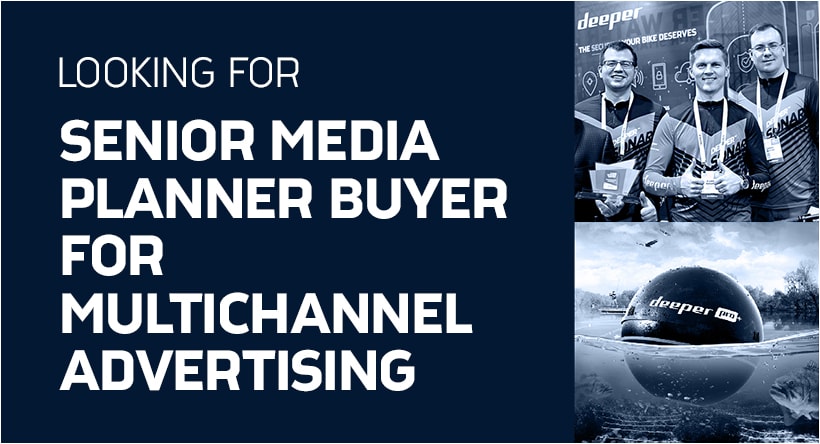 Deeper is a ground-breaking, globally-oriented consumer electronics company based in Lithuania. We create and produce smart electronic devices for sports and outdoor activities.
THANKS FOR YOUR INTEREST. CURRENTLY, WE ARE NOT LOOKING TO FILL THIS POSITION. PLEASE VISIT HTTP://DEEPER.EU/CAREER/ FOR A LIST OF ALL THE OPEN POSITIONS WE HAVE AT PRESENT.
Join our globally-oriented team as a Senior Media Planner and Buyer. You will be responsible for identifying the best media platforms for advertising our brand and product in order to maximise the impact of our advertising campaigns. This means you'll have to combine creative thinking with detailed data analysis to develop the right strategies to ensure campaigns    reach their target audiences as effectively as possible.
What you will be doing
In your role you'll work on several projects simultaneously, across several different countries. Your responsibilities will fall into two main areas:
Planning and Preparation:
 – working with country sales managers and the marketing team to understand our business objectives and advertising strategy;
– making data-based decisions on the best form of media to use for specific countries and campaigns;
– analysing target audience characteristics and presenting proposals on the most appropriate types of media to use, as well as the most effective time spans, locations and cost schedules.
Implementation:

– maintaining and monitoring all aspects of the media plan, including establishing media objectives and strategies, developing recommendations, tracking expenditure to ensure budget compliance, negotiation/buying, implementation, and optimization;
– negotiating with media sales companies to obtain the best rates and media spaces in online, broadcast and print advertising, and booking individual advertising spots, e.g. pages,   posters, banners and broadcast adverts;
– ensuring adverts are run accurately so the right message is seen and heard by consumers;
– analysing the effectiveness of each campaign and using this data to form future campaigns;
– proactively bringing new ideas to the team, keeping ahead of trends in the multichannel media industry, and sharing insights on the latest developments with colleagues.
The experience and skills you will need
– 4+ years' experience working in media planning/buying, including at least 1 year focused on online;
– Strong verbal and written communication skills, including the abilities to effectively present information in various group settings, and to lead meetings (both internal and interagency);
– Strong organizational skills and a detail-orientated approach, including the abilities to prioritize, to work well under pressure handling multiple assignments, to meet tight deadlines;
– The ability to make strategically sound decisions;
– The ability to complete tasks and projects independently and to troubleshoot issues and provide solutions;
– Strong mathematical abilities are essential, and a working knowledge of monitoring, analysis and scheduling systems is preferred;
– Solid negotiation skills.
Our Offer
At Deeper, we are proud of our collaborative culture, which inspires achievement. Joining the Deeper team gives you the opportunity to help this culture grow further and to be a part of    an award winning company. You will also benefit from:
– The opportunity to communicate with a network of 500+ million users globally;
– A five star office in a beautiful park with an open workspace, a terrace and a quiet spot for a power nap;
– An attractive compensation package.
INTERESTED?
Please send your CV in English, to career@deeper.eu. Please use the subject line "SENIOR MEDIA PLANNER BUYER FOR MULTICHANNEL ADVERTISING". Please note, only candidates  selected for an interview will be contacted.