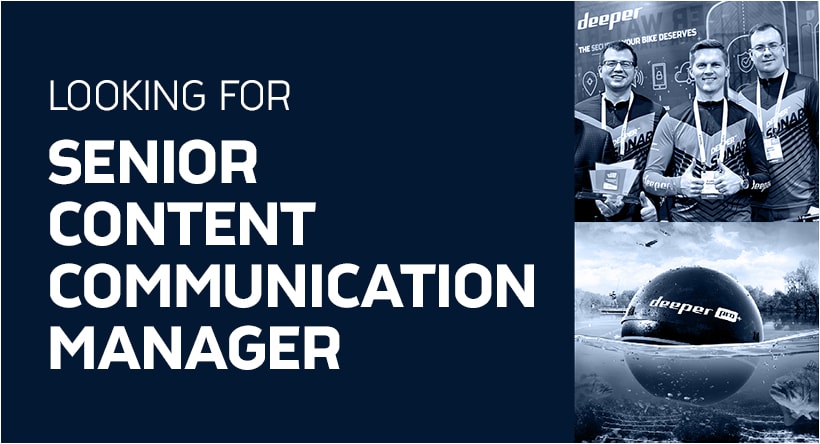 Deeper is a ground-breaking, globally-oriented consumer electronics company based in Lithuania. We create and produce smart electronic devices for sports and outdoor activities.
THANKS FOR YOUR INTEREST. CURRENTLY, WE ARE NOT LOOKING TO FILL THIS POSITION. PLEASE VISIT HTTP://DEEPER.EU/CAREER/ FOR A LIST OF ALL THE OPEN POSITIONS WE HAVE AT PRESENT.
Reporting to the Chief Marketing Officer, as a Senior Content & Communications Manager you will be leading all aspects of our marketing communications. This includes messaging and brand stewardship, and awareness and demand generation campaigns. You will have a team of designers, video specialists and copywriters reporting to you, and together you will create lead-converting resources and shareable creative projects. Your responsibilities will include forming our content strategy, ensuring its development and implementation, monitoring    content distribution and reporting on the effectiveness of this content to the CMO.
What you will be doing
– Managing our content marketing strategy; ensuring our message remains consistent with our business objectives and garners appropriate media attention.
– Leading a team of content producers to create regular content to be marketed via all inbound channels (social, email, blog, landing pages, etc.).
– Developing and project managing integrated awareness and/or demand generation marketing campaigns.
– Ensuring all the marketing needs of our stakeholders are met, and that the Deeper brand guidelines are implemented properly and consistently across the organization.
– Keeping the team up-to-date with the latest trends in content marketing and communications.
– Managing relationships with outside vendors and agencies as appropriate.
– Creating comprehensive communication plans in order to drive business objectives and support the Deeper brand.
– Working closely with executive leadership in order to understand our past and present, and our future vision, and translating this into appropriate communications for existing    customers, potential prospects and for the fishing tackle industry.
The experience and skills you will need
– A minimum of 4-6 years' experience in communications, content marketing, or public relations.
– The ability to effectively work and communicate cross-functionally within multiple teams including marketing, product management, client services and executive leadership.
– Proven success in creating storylines used for generating content for media relations, blogs, white papers, etc.
– Proven integrated marketing, demand generation and project management abilities.
– Marketing automation experience or knowledge.
– The ability to manage multiple activities, prioritize projects and meet tight deadlines.
– The ability to be driven by creative intuition but also to use data to test and prove your gut instincts and to course-correct.
– The ability to to report results and optimize using data.
Our Offer
At Deeper, we are proud of our collaborative culture, which inspires achievement. Joining the Deeper team gives you the opportunity to help this culture grow further and to be a part of    an award winning company. You will also benefit from:
– The opportunity to communicate with a network of 500+ million users globally.
– A five star office in a beautiful park with an open workspace, a terrace and a quiet spot for a power nap.
– An attractive compensation package.
INTERESTED?
Please send your CV in English, to career@deeper.eu. Please use the subject line "SENIOR CONTENT & COMMUNICATIONS MANAGER". Please note, only candidates  selected for an interview will be contacted.