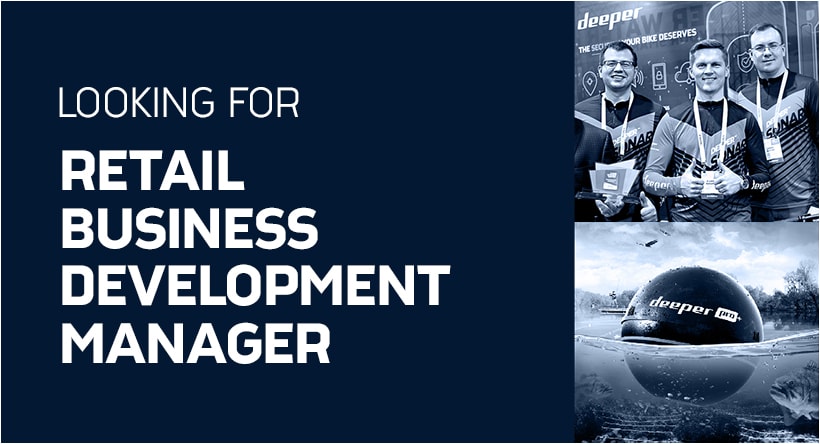 Deeper is a ground-breaking, globally-oriented consumer electronics company based in Lithuania. We create and produce smart electronic devices for sports and outdoor activities.
THANKS FOR YOUR INTEREST. CURRENTLY, WE ARE NOT LOOKING TO FILL THIS POSITION. PLEASE VISIT HTTP://DEEPER.EU/CAREER/ FOR A LIST OF ALL THE OPEN POSITIONS WE HAVE AT PRESENT.
Deeper's ground breaking range of smart sonar devices now sell in over 50 markets globally, and as a Retail Business Development Manager you will play an important role in further developing our position in retail sales.
What you will be doing
Reporting to our Sales Director, you will be responsible for supporting our retail sales in key markets globally. Here's how you will do it:
– Analyzing our current retail network capabilities in foreign countries and creating a Deeper retail strategy;
– Visiting stores and initiating the implementation of retail standards in stores together with our country sales managers;
– Monitoring and ensuring Deeper retail standards are followed, and that marketing and promotion programs are correctly implemented;
– Analysing sales figures and forecasting future sales;
– Identifying the right technologies to use for recording sales figures, analysing data and forward planning;
– Bringing creativity, strategy and influence to our merchandising;
– Evaluating competitor activity and creating tactics to enhance our performance;
– When required, coaching, mentoring and training store teams on retail basics and store merchandizing.
The experience and skills you will need
– Retail sales or merchandising experience gained in a distribution or vendor company;
– Know-how in creating and implementing retail standards across different regions;
– Proven ability to drive sales plans;
– Strong communication and persuasion skills;
– A proactive attitude, taking the initiative to act when needed and continuously striving for improvement;
– The ability to travel abroad for up to 50% of your working time.
Our Offer
At Deeper, we are proud of our collaborative culture, which inspires achievement. Joining the Deeper team gives you the opportunity to help this culture grow further and to be a part of    an award winning company. You will also benefit from:
–  The opportunity to make a substantial difference to Deeper's retail business;
– Being part of our "Dream Big" team, where even the most challenging ideas can become a reality;
– An attractive compensation package;
– The opportunity to travel frequently and get to know the specifics of retail business in different regions.
INTERESTED?
Please send your CV in English, to career@deeper.eu. Please use the subject line "RETAIL BUSINESS DEVELOPMENT MANAGER". Please note, only candidates  selected for an interview will  be contacted.