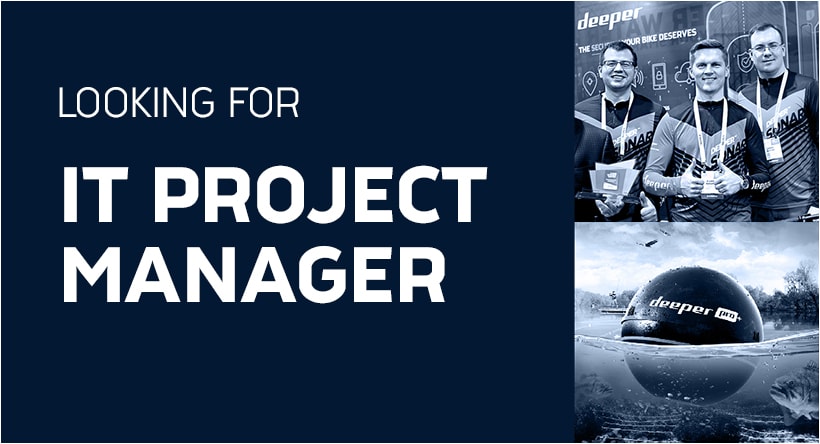 Deeper is a ground-breaking, globally-oriented consumer electronics company based in Lithuania. We create and produce smart electronic devices for sports and outdoor activities.
THANKS FOR YOUR INTEREST. CURRENTLY, WE ARE NOT LOOKING TO FILL THIS POSITION. PLEASE VISIT HTTP://DEEPER.EU/CAREER/ FOR A LIST OF ALL THE OPEN POSITIONS WE HAVE AT PRESENT.
Join us and help to ensure the smooth running of the IT systems at Deeper. As an IT Manager you will be responsible for IT and business projects, playing a key role in initiating the implementation of new IT systems and the optimization of existing ones. You will need to oversee resources, timelines and change management.
What you will be doing
– Ensuring our current IT systems and processes are well optimized, well integrated and operating on budget;
– Selecting, managing and improving ERP, CRM, Business Efficiency and Analytics solutions;
– Leading IT projects for the implementation of new systems;
– Proactively identifying and collecting the IT needs of different departments, and suggesting alternatives that would deliver the results needed;
– Controlling implementation by overseeing scheduling, progress and resources;
– Supporting Deeper's IT strategy by working closely with management;
– Coordinating between internal and external resources, and ensuring smooth communication and involvement;
– Creating documentation;
– Organizing deployment;
– Identifying, planning and managing Deeper's Software, Hardware and Hosting needs.
The experience and skills you will need
– Organizational and project management skills, including the ability to plan, delegate and successfully carry out multiple projects;
– Experience in a similar role running successful IT projects;
– A strong business orientation, including the ability to identify business priorities and act accordingly;
– A proactive "can-do" attitude;
– A solid technical background, including understanding and hands-on experience of best in class software technologies for business;
– Tech savviness and a desire to always keep up to date with the latest technologies.
Our Offer
At Deeper, we are proud of our collaborative culture, which inspires achievement. Joining the Deeper team gives you the opportunity to help this culture grow further and to be a part of    an award winning company. You will also benefit from:
– The opportunity to make a difference in the technologies Deeper uses for its operation.
– Being part of our "Dream Big" team, where even the most challenging ideas can become a reality;
– An attractive compensation package.
INTERESTED?
Please send your CV in English, to career@deeper.eu. Please use the subject line "IT PROJECT MANAGER". Please note, only candidates  selected for an interview will be contacted.