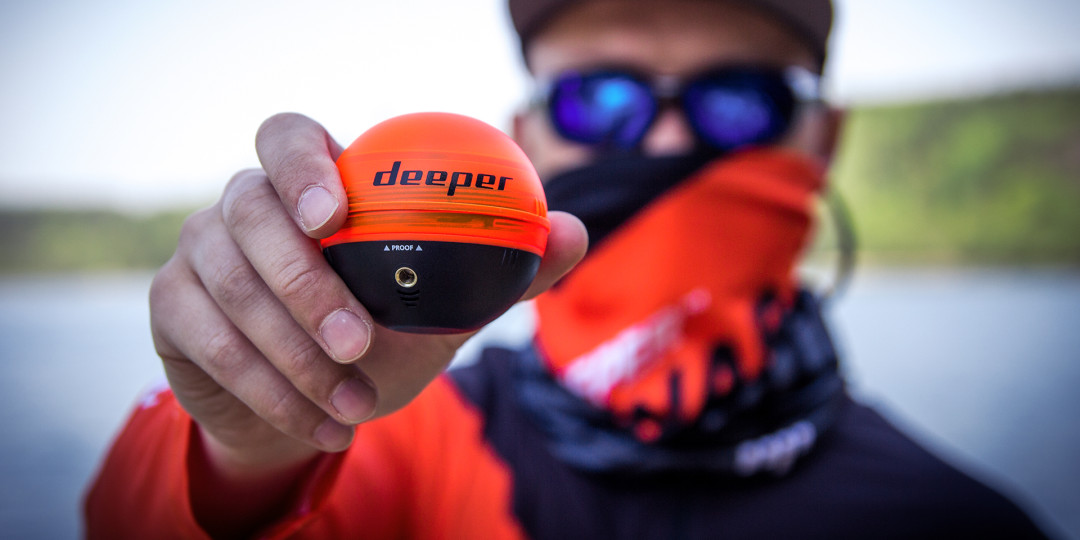 Inside the Deeper devices the world's smallest GPS module Nano Hornet
Deeper has integrated the Nano Hornet, the world's smallest GPS module with an integrated antenna, into its fish findingThe Deeper Smart Sonar works in both salt and fresh waters, gives fishermen a detailed view of water bed contour and provides fish-finding features and fish shoal locations, enabling fishermen to target their prey with confidence. Its powerful location tracking technology provided by OriginGPS can also provide accurate insight into the bottom structure of a lake, river or seabed, as well as fluctuations in water temperature, so that fishermen can obtain a deep understanding of the fish holding habitat and best biting times.
"Deeper chose OriginGPS due to the small size and weight of the Nano Hornet," said Donatas Malinauskas, chief technology officer, Deeper. "OriginGPS is the only company that has produced an integrated GPS and antenna module that fits our aim to create a smaller and lighter sonar device. The Nano Hornet's high performance and low power consumption are enabling fishermen to deploy more accurate and longer lasting fish-finding capabilities. By integrating the Nano Hornet, we were able to add location functionality to our sonar device while ensuring it can fit into every fishing tackle box and be used in places most traditional sonars can't, like from a shore or dock."
Deeper Smart Sonars perform in the most challenging environments. The device operates on the water, which is rarely still. While floating on the water's surface, it transmits real-time underwater data to a user's smartphone or tablet. Weighing only 100 g., Deeper Smart Sonar PRO+ is the world's first wireless castable echo sounder containing an internal GPS receiver. This advanced technological achievement elevates the shore-fishing experience to the next level, as it enables shore fishermen to receive remote water bed data even while standing on the ground.
Deeper Smart Sonars use Wi-Fi to transfer accurate sonar and sensor readings, including location information gathered by OriginGPS' Nano Hornet, to a fisherman's smartphone or tablet from up to 330 ft/100 m. Its dual frequency feature allows excellent observation at depths in 90 kHz (55°) and 290 kHz (15°) radius, providing crystal clear images of fish targets and underwater bottom structure.
Measuring only 10 by 10 mm, the OriginGPS Nano Hornet delivers a state of near continuous availability with outstanding performance and sensitivity, while consuming mere microwatts of battery power. The GPS module leverages OriginGPS' proprietary Noise Free Zone™ (NFZ) technology to ensure accurate and fast positioning, even under limited signal conditions. Despite its small size and weight, it achieves a rapid time to first fix (TTFF) of less than one second, with an accuracy of approximately one meter and tracking sensitivity of -163dBm. The most recent addition to OriginGPS' product line is the Multi Micro Spider, the smallest fully-integrated, highly-sensitive multi-GNSS module, which is ideally suited for devices with ultra-small form factors.
"The Deeper Smart Sonars show how location-based services can be used to improve recreational experiences," said Gal Jacobi, chief executive officer, OriginGPS. "The growth of the IoT is impacting everyone's lives, making it easier than ever before to track anything important, from a wearable that monitors a person's health to finding fish at the bottom of a lake. Deeper recognized the opportunity that location tracking presented to fishermen to pinpoint the best fishing spots. We're proud that the Nano Hornet will help to bring fishing into the IoT era and we're convinced that Deeper will continue to change recreational sports as we know it."