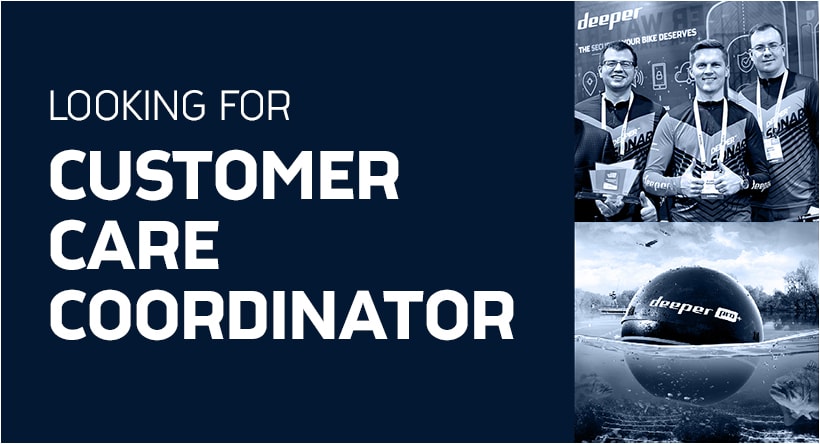 Deeper is a ground-breaking, globally-oriented consumer electronics company based in Lithuania. We create and produce smart electronic devices for sports and outdoor activities.
THANKS FOR YOUR INTEREST. CURRENTLY, WE ARE NOT LOOKING TO FILL THIS POSITION. PLEASE VISIT HTTP://DEEPER.EU/CAREER/ FOR A LIST OF ALL THE OPEN POSITIONS WE HAVE AT PRESENT.
Join our globally-oriented team as a Customer Care Coordinator. You will be responsible for guiding Deeper customers in finding solutions to their technical issues. Most of the inquiries      you deal with come through our ticketing system, though you will also be communicating with some customers over the phone and in person. You will need to demonstrate the ability to solve problems quickly and effectively, and strong customer care skills, in order to be successful in this position.
What you will be doing
– Supporting customers via our ticketing system.
– Responding to customer calls (approximately 30 calls per month).
– Interacting with customers via social platforms (Amazon Reviews, Youtube, Facebook).
– Suggesting ways to improve the existing customer support process.
– Developing our knowledge base about how Deeper products are used and perceived.
– Taking part in projects dedicated to process improvement and other internal initiatives.
The experience and skills you will need
– Experience in interacting with customers by email, phone or face to face.
– Fluency in English and Lithuanian as these will be your working languages. Additional languages will be considered a big plus.
– Experience providing technical support would be an advantage.
– Tech savviness and a desire to always keep up to date with the latest technologies.
Our Offer
– You will be an important part of the customer support team we are putting together, and you will have responsibility for driving improvements.
– You will have the opportunity to expand your technical knowledge by providing support on a range of cutting edge smart products.
– Regular team building, including fishing trips with the team.
– Consistent working hours with no weekend work required.
INTERESTED?
Please send your CV in English, to career@deeper.eu. Please use the subject line "CUSTOMER CARE COORDINATOR". Please note, only candidates  selected for an interview will be    contacted.